Hakoniemen tuvat
A 80 sq.m log-built cottage completed in 2009. Quiet location on the lake shore, about 55 km from the central village of Ranua. The cottage has ample conveniences (including a ceramic cooker, microwave and fridge-freezer with ice cube maker) and a luxurious 6-person hot tub on the shore. Guests also have the use of a boat and fishing nets.
1 bedroom, loft and lounge. Sleeps 6, kitchenware included for 6 persons.
Koukunperäntie 76, 97665 Pohjasperä
tel: +358 40 357 5221
asiakaspalvelu@hakoniementuvat.fi
www.hakoniementuvat.fi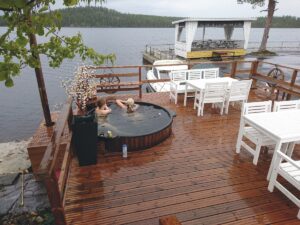 Kulturanta
This splendid and spacious seven-bedroom villa is situated in rugged lake landscape, surrounded by wilderness. The 500 m2 villa contains seven bedrooms with a total of 20 beds. There are large lounges with fireplaces and pool tables, a kitchen and dining areas, and a special sauna section with an indoor jacuzzi and outdoor hot tub on the terrace. The amenities include a separate, fullyequipped karaoke bar, which can be converted into a cinema, for example. The upstairs meeting room has 20 seats around a large table. A wireless network connection guarantees a complete meeting experience. The large yard features a private sandy beach, a beach volleyball court, a large barbecue hut, a big sauna and large piers that can even accommodate a hydroplane. A sturdy fence and camera surveillance ensure on-site security and privacy.
Simojärventie 214, 97755 Ranua
Mauri Kuha, tel +358 500 205 462
kulturanta@hotmail.com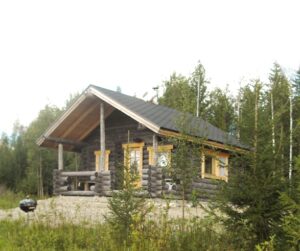 Lohiniitty
A comfortable 30 sq.m log-built cottage along Simojoki river that sleeps 4. ere is excellent shing in the river (salmon, trout and grayling). The cottage has an electrically heated sauna. In the summer, the lakefront sauna and a boat are also available. The rent includes a fishing permit for one person. 29 km from the Ranua Wildlife Park, 32 km from the central village of Ranua.
Simotie 179 A, Ranua
Tel. +358 400 790 850
Holiday in Lapland
Lohiniitty in Lomarengas.fi
Peurakangasranta
The two-storey 120 sq.m villa by Lake Ranuanjärvi, completed in 2001, offers modern conveniences for 8+2 persons. Downstairs: toilet, washroom, sauna, lounge, kitchen and bedroom.
Upstairs: four sleeping alcoves and a Tulikivi fi replace. In the summer, the rent includes the use of a canoe and a rowboat. In the winter, snowmobile rental is available. Excellent opportunities for skiing and other activities close by. A shallow, hard-bottomed beach. 9 km from the Ranua Wildlife Park, 6 km from the central village of Ranua.
Laivalantie 11 E, Ranua
Tel. +358 400 790 850
cornelis.degroot@pp.inet.fi
Holiday in Lapland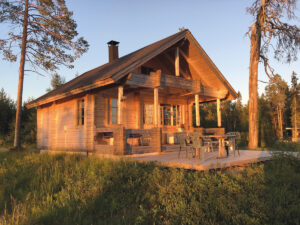 Raja-ahon tarinatupa
A pleasant cottage (sleeps 6 + 4) with a sauna by Lake Simojärvi. Guests can enjoy boating and fishing guided by a skipper, who tells stories about local life.
Sakari Niemelä tel. +358 40 553 0964
niemela.sakari@gmail.com
Rantamökit Pernu
By the Simojärvi Lake the personal cabins are waiting for you. Cabins accommodate 4-6 persons. In Marjaniemi (6 persons) you have the naturally beautiful and peaceful cape for yourself. Kitchen, two bedrooms, wc, shower and traditional wood-heated sauna can be found in the cabin. Rantamökki (4 persons) has kitchen, bedroom, sauna, shower and wc. On the courtyard of main building, you can find basic level cabins with a lot of caricature – Aitta and Riihi (4 persons). There is an outhouse and separate sauna for the use of Aitta and Riihi.
Rowing boat available. Beach is suitable for swimming. Ask for rental options for winter season.
Village swimming beach is one kilometer from cabins.
Simojärventie 200 A, 97700 Ranua
Tel. +358 40 589 5537
Rantamökit Pernu – webpage
Rantatuvat Luiro
Two holiday cottages (each sleeps 4) on the lake shore near a variety of recreation opportunities: shing, berry picking, hiking and hunting in the summer, easy access to ski tracks and snowmobile routes in the winter. The cottages each have a lounge and a bedroom, a heat pump for heating and cooling, a fully equipped kitchen and a sauna. Guests have the use of a barbecue shelter and a boat on the shore.
Luirontie 4, 97665 Pohjasperä
Tel. +358 400 201 110, 040 576 0541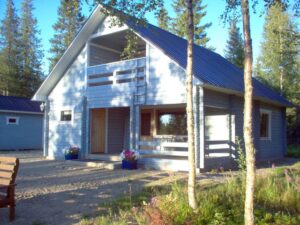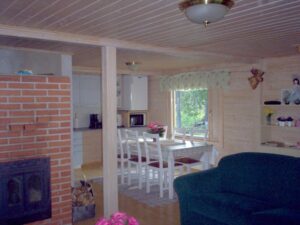 Tarujärvi cabin
Tarujärvi Cabin is by the River Simojoki at Raiskio in a peaceful place. Cabin has electricity and can be used all seasons. Dressing room and sauna can be accessed from the terrace. Wood-heated sauna provides enjoyable bath. Sheets are included, but please remember to bring your own towels. Rowing boat can be used by visitors. Woods are on site. Toilet is an out room.
Simojoentie 12, 97715 Raiskio
Viola and Pertti Tarujärvi tel: +358 40 534 7929 or +358 40 737 2669
tarujarvenmokki@hotmail.fi
Tarujärven mökki
Villa Havula
This property is 12 minutes' walk from the beach. Offering free bikes and barbecue facilities, as well as a garden, Villa Havula is located in Ranua, a 15-minute walk from Ranua Wildlife Park. The accommodation features free WiFi. The apartment consists of 3 separate bedrooms, 1 bathroom, and a seating area, beds for max. 8 persons. The kitchen features a dishwasher and an oven. There are also snowmobile routes close by.
Laaksotie 22, 97700 Ranua
tel: +358 400 613 394 / Paula Erkkilä
villa.havula@gmail.com
Villahavula.fi
Villa Havula can also be booked via Booking.com
Villa Huilinki
By the Lake Kortejärvi, on the peaceful and naturally beautiful location, Villa Huilinki can be found. Modern villa is equipped with indoor kitchen, comfortable living room and sauna with a lake-view. On terrace, a dining area, a barbeque and smoker can be used during summer. Right next to the villa is a sauna, with electric sauna stove, and with a dressing room that can be used for additional space for sleeping. Beach is child-friendly and on the yard is a playground for children. For the enjoyment of guests, are also boats, sup-board, kicksled, toboggan and snowshoes. Ask for bathing tub. Snowmobile routes and lean-to are close-by.
Terhi Juutinen, tel: +358 40 520 1634
villahuilinki@gmail.com
Villa Huilinki in Go Finland
Villa Huilinki can also be booked via Booking.com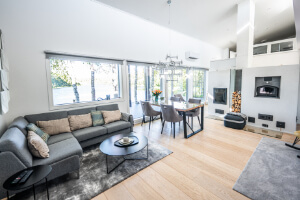 Wikkelä Villa
Wikkelä Villa is located by the Simojoki river in Ranua, about 17 km from the Ranua Zoo. The large windows and glass doors of the villa let in abundant natural light, and in the evening you might see the dance of the northern lights while sitting comfortably in front of the living room fireplace.
Wikkelä has three two-person bedrooms and a loft with two more beds. The villa has a wide variety of modern amenities and its kitchen is well-equipped for all kinds of cooking.
Wikkelä has an indoor sauna with an electric heater and a traditional beach sauna with a wood-burning stove. There is also a nice hot tub on the covered deck.
Book now to get a 20% discount on visits between 23rd of November 2020 and 31st of January 2021. See details at www.arcticdreamshouse.com.
Wikkelä Villa
Simontie 52, 97715 Raiskio
Tel: +358 50 471 8189
Email: nid.ho@wikkela.fi
https://arcticdreamshouse.com/villa-wikkela/
Haistila
Haistila was built in the 1970s and it's located close to the Simojoki river, about 18 km from the Ranua center. The three bedroom apartment has beds for nine people and two high-quality sofa-beds for three more people.
This house has stylish interior, modern conveniences, great shower and sauna facilities and a well-equipped kitchen, guaranteeing that you'll be happy to stay here as long as you can.
Book now to get a 20% discount on visits between 23rd of November 2020 and 31st of January 2021. See details at www.arcticdreamshouse.com.
Haistila
Simontie 50B, 97715 Raiskio
Tel: +358 50 471 8189
Email: nid.ho@wikkela.fi
https://arcticdreamshouse.com/haistila/
Hommala
For those looking for peace and quiet we have a secret hiding place by the Simojoki river, only 18 km from the Ranua center. The main building of Hommala is a two-storey wooden house that can easily accommodate up to 13 people. Perfect for birthday parties and other similar gatherings!
Close to the location are the famous cloudberry mires of Ranua, for those interested in berry picking. Only two kilometers away is an official snowmobile route that connects to different routes all over Northern Finland during the winter.
Book now to get a 20% discount on visits between 23rd of November 2020 and 31st of January 2021. See details at www.arcticdreamshouse.com.
Hommala
Hommalantie 11, 97715 Raiskio
Tel: +358 50 471 8189
Email: nid.ho@wikkela.fi
https://arcticdreamshouse.com/hommala/
Villa Seppälä
Close to the center of Ranua, you can find a unique destination – Villa Seppälä. Villa Seppälä is over a hundred year-old log house with eight beds. The history of building is respected and emphasized in interior design. WiFi, fully equipped kitchen and motor beds will, however, provide you a memorable holiday with modern amenities. Guests can book a traditional Finnish sauna, and during the Summer, there is a private beach in use. The great hall can be reserved for meetings and celebrations, as well. Remember to ask about the seasonal activities, the family owning the house will be happy to take you to pick up berries, snow-shoeing and ice-fishing.
Rantamutka 16, 97700 Ranua
Veijo Ranua, ranua@veke.fi
Villa Seppälä can also be booked via Booking.com