Harjumökit
"Harjumökit" is a place to take a sneak peek into locals 'everyday life. This family-owned accommodation spot is a secret waiting to be unrevealed: live like the locals with the locals! The hosting family runs these cute cabins and accommodates visitors in the very proximity of their own home. Stop over to feel the hospitality and unpretending style of living in a small Lappish village. The lake offers activities both winter and summer, sauna is always on demand and the forests enchants with its peacefulness.
In Saariharju village (30 km from Ranua center) accommodation in
• 3 small cabins available from May to September. One of the cabins is suitable for allergics.
• 1 cabin available year around
• Caravans and campers are welcomed to stay with us!
• All visitors have free access to use all amenities around the area: a Lappish hut for grilling,
children's' playhouse, trampoline, gazebo and cooking facilities. We also rent out a boat,
life jackets included.
Posiontie 299, 97760 Saariharju
tel: +358 40 743 8890 (in Finnish)
info@harjumokit.com
Harjumokit.com
Kantoniemen tuvat
An idyllic courtyard with a camping site on the shore of Lake Simojärvi next to fishing waters, hunting opportunities and a forest for picking berries. The holiday cottage for rent by Lake Simojärvi sleeps 6; lounge with kitchen, fireplace, bedroom, toilet, sauna, shower and TV. In summer, there is another cottage for 3 persons, a camping site with electricity and a sauna. The main building houses a bar, featuring karaoke evenings in summer, for example.
Simojärventie 220, 97700 Ranua
Tel. (016) 358 202, +358 40 962 8698
info@kantoniementuvat.fi
kantoniementuvat.fi
Holiday Village Gulo Gulo
Gulo Gulo has holiday apartments in semi-detached houses. Each apartment is stylishly furnished, with a fireplace, sauna and kitchen with all modern conveniences, and of course a terrace with a forest view. The two apartments in any villa can be combined to form a single holiday accommodation that sleeps 12. In the grounds there is a lean-to where guests can sit by an open fire and listen to the sounds of animals.
Nearby RanuaZoo offers unforgettable experiences such as encountering a polar bear in the morning before opening hours. Guests of the Holiday Village are granted access to the Wildlife Park for a single fee for the duration of their stay. Husky rides, reindeer rides, snowshoe treks and snowmobiles are available in the Holiday Village itself. Gulo Gulo is open every day.
Rovaniementie 29, 97700 Ranua
tel: +358 40 556 3555
sales@gulo.fi
gulo.fi/
BOOK ONLINE
Holiday Village Gulo Gulo in Booking.com
Holiday Village Gulo Gulo in Tripadvisor
RanuaZoo Camping
The RanuaZoo Camping provides a convenient caravan and tenting place in the immediate vicinity of the Ranua Wildlife Park. You can stay through day and night, and the sauna is warm every night.
The area includes a kitchen with dining space, a barbecue grill, saunas and showers, washing machine, children's playground, and septic disposal. The Wild Arctic Restaurant, Fazer-confectionery as well as other shops at the Wildlife Park complex complete the RanuaZoo Camping services.
In addition to the services of the Wildlife Park, the nature-trail with the cots and lean-tos along the way offers extra adventures in the immediate vicinity of the Camping area. The service provider Wildlife Safaris, located on the Park premises, offers hiking-, fishing- and canoeing treks in the nearby wilderness.
Prices:
Caravan/-car basic fee: 13 €/day
Tent place: 12 €/day
Personal fee: 4 €/person
Electricity: 5 €/day
Check-in:
The Holiday Village Gulo Gulo reception: 8 am – 10 pm
The Ranua Wildlife Park ticket sales office: 10 am – 4 pm, summer 9 am – 7 pm
If you arrive outside the opening hours, the fee is to be paid the next morning.
Telephone +358 40 556 3555  or +358 40 517 7436
sales@gulo.fi
ranuawildlife@ranua.fi
Lake Ranuanjärvi Camping
The Lake Ranuanjärvi Camping is excellent for you looking for an advantageous and peaceful accommodation with lake-side views! The Ranuanjärvi Camping is located right in the vicinity of the Ranua centre. The closest Supermarket is about 2 km and the Ranua Wildlife Park 5 km away. At the Camping area you have the choice of tenting- or caravan places or cottages for rent in the summer. Children will be delighted of the sandy beach on the shore, children's playground and trampoline on the premises. The mini-golf course and rowing-boats for rent offer recreation opportunities for adults. The choice of two saunas in the area is available upon reservation also.
Accommodation:
Cabins for 2 or 4 persons
Cabins with a small kitchen: 4 persons
Tenting area
Caravan places
Open: summer seasons
Leirintäalueentie 5, 97700 Ranua
Tel. +358 40 543 6011
ranuanjarven.leirinta@ranua.fi
ranuan.zoo@ranua.fi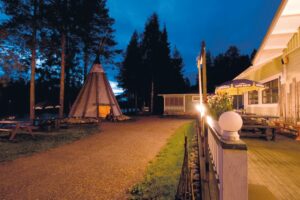 Simojoen Lohiranta
Located in the vicinity of the best salmon fishing spots on Simojoki river. 70 km from RanuaZoo, 21 km from the E4 main road
• accommodation in cottages and rooms
• caravan park
• catering services and restaurant
• fishing permits
• guide services
• canoe, kayak and boat rental, transport service
• sale and rental of fishing tackle
Novelty: pike-perch fishing trips to the sea or a wilderness lake. Martimoaava rambling trail network, famous for birds and
wildlife, is nearby. An excellent place for rest and recuperation for companies, groups and individual travellers in the midst of unspoiled nature!
Ranuatie 219 B, 95255 Alaniemi
Tel. +358 400 691 351
info@simojoen-lohiranta.fi
simojoen-lohiranta.fi