Simojärvi Boat safari
From May to October we welcome you to enjoy the largest lake of Ranua, Lake Simojärvi, by boat. The skipper will take you on a boat ride, as well as time-travelling as he knows not only the lake, but also the history of the area. You get to experience the traditional coffee made on the campfire. During the fishing show, the current ways to fish are introduced. When the evenings get dark enough, and if you are lucky, you may get to see the dance of northern lights. Duration is 4 hours.
Available: May-October, Mon-Fri two times a day
at 11 a.m. to 3 p.m. or at 3-7 p.m.,
on weekends at 3-7 p.m.
Group size: 4-8 persons
Information and bookings:
Skipper Sakari Niemelä
niemela.sakari@gmail.com
Simojärvi Boat Safari and Berry Expedition can be booked online:
Loading…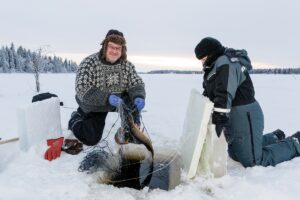 Winter net fishing with Sakari
Experience an unforgettable winter net fishing! You'll meet the local arctic
fisherman Sakari in the lake of Ranua. Sakari – the arctic fisherman will show
us how to check the nets under ice.
Duration: 3 hours
Minimum number of participants: 4
Information and bookings:
Sakari Niemelä, niemela.sakari@gmail.com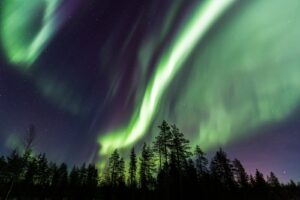 Searching for Auroras
Follow our guide from Gulo Gulo to the snowmobile track to receive driving instructions. The guide will teach you how to ride a snowmobile and what precautions to take. The snowmobiles have excellent headlights that guarantee good visibility, even on dark forest trails. We take a couple of short breaks on the way and enjoy a cup of hot juice by an open fire at the halfway point. If we are lucky, we will be treated with one of the most amazing natural phenomena in the world: the northern lights.
Duration: 3 hours (30 kilometers by snowmobile)
Note: driver needs to have minimum of T-license
Price includes: Guide, snowmobile, fuel, insurance, equipment for snowmobiling, Excess 550 e / crash
Minimum 2 persons
Booking: Wildlife Safaris
sales@wildlifesafaris.fi
tel : +358 40 556 3555
Lappish workshop in Ranua:
Arts and Crafts with Ms. Paula
We welcome you to join a relaxing and ambient, Lappish arts and crafts moment with a local handicraft artist, Ms. Paula. Together with her assistance, you will have the opportunity to make a genuine reindeer leather souvenir for yourself. This arts and crafts workshop takes place in Ranua Zoo´s Lappish hut, which is located right next to info and ticket sales office.
Genuine materials, wooden beads, reindeer antler and leather are used.
Bookings:
Wildlife Safaris, 
tel. +358 40 556 3555
sales@wildlifesafaris.fi
Fishing center Simojoen Lohiranta Tourism and leisure services
• accommodation in cottages and rooms
• caravan park
• catering services and restaurant
• fishing permits
• guide services
• canoe, kayak and boat rental, transport service
• sale and rental of fishing tackle
Martimoaava rambling trail network, famous for birds and
wildlife, is nearby. An excellent place for rest and recuperation for
companies, groups and individual travellers in the midst of unspoiled
nature!
Ranuantie 219 B, FI-95255 Alaniemi
Tel. +358 400 691 351, +358 400 394 066
www.simojoen-lohiranta.com
info@simojoen-lohiranta.fi
Arctic Borealis Huskies
On winter time, it is possible to enjoy the husky safaris leaving from Ranua Wildlife Park. On other seasons, the huskies take you to forest by carts in Piittisjärvi area. Arctic Borealis Huskies is a family business that welcomes you to meet Siberian huskies and other dogs.
Available: By agreement on non-snowy seasons, max temperature for cart ride +15 °C, no temperature limit for visiting the husky farm
Group: size by agreement
Bookings for winter:
Wildlife Safaris
sales@wildlifesafaris.fi
tel. +358 40 556 3555
www.abhuskies.fi  shop
info@abhuskies.fi
Bookings and information for other seasons:
info@abhuskies.fi
tel:+358408468227
Vaara Reindeer Farm
During the visit you'll meet reindeer and see the work that's done on the farm. You'll also get to feed the reindeer. After feeding the reindeer, a reindeer sleigh will take you to a warm hut for a hot drink and a chat with the people of the farm. If you want to enjoy the beautiful and serene nature, the 3-kilometer reindeer safari is the choice for you.
Bookings for snowmobile safari to reindeer farm 
When: December through April & in the summertime, visits can be agreed upon
Includes: Reindeer sleigh ride at the farm or at Ranua Zoo
Tel. +358 40 834 6072/Johanna,
+358 400 121 364 /Hannu
vaaranporotila@gmail.com
Discover the life of traditional Finn horses!
We welcome you to visit our stables with traditional Finn horses. We take you on a smooth and relaxing carriage ride through the beautiful nature and pure forests. Hear the stories behind our love for Lapland while the horses take us through wintry sceneries!
We also organize horse cart rides, horse-back riding tours and visits to nature. Winter sleigh rides also available from Ranua Wildlife Safaris
More information and Finn horse farm:
Laaksotie 26, RANUA
Tel. +358 40 8352 709
hevospalvelut.kaikkonen@gmail.com
http://ranuanhevospalvelut.fi
Wildlife Safaris
The centre of our safari operations is Safari House, with a surface area of 360 m2, located within the Wildlife Park. Here we receive our guests and provide them with comprehensive safari equipment. We have smart and functional clothing for guests of all ages and every size. Holiday Village Gulo Gulo's guests may use their warm safari equipment during the entire length of their stay – even during their own time.
The snowmobiles of Wildlife Safaris are perfectly suited for use on the safaris. They are ecological, quiet four-stroke snowmobiles that are low on emissions and are registered for two riders. What makes these snowmobiles special is their seat for three, which allows for a child to sit on the snowmobile together with the parents. During the summer we transport our guests by car or take our guests on guided hikes.
Safety and preventive measures are of utmost importance to us and we pay special attention to them during all of our safaris. Our guides have been trained to be prepared for all risks, and they instruct our customers on safety issues prior to every challenging programme. In case of the unlikely event of an accident, Wildlife Safaris has a joint rescue plan with the alarm control centre in the area of its operations.
All seasons
More information and bookings:
Wildlife Safaris
Tel: +358 40 556 3555
sales@wildlifesafaris.fi
Wildlife Safaris programs can be booked online:
Loading…
Susimaa
Susimaa is a wolfdog haven and a place to life as good as possible in peace and harmony with nature and growing own vegetables on a field – self-sufficient living. Susimaa is our concept of a simple off-grid life in the middle of the woods and a step back into a living as it once has been.
Susimaa is open all year around for visitors. Different season – different tours – but always exclusive adventures for small groups only. Welcome to a farm visit or one day at our land, to experience oneness with nature in the calm atmosphere of our land and animals!
More information:
www.susimaa.com
Bookings:
http://www.susimaa.com/adventures/
booking@susimaa.com
Simonkankaantie 39, 97700 Ranua
Tel: +35844 237 3104
Loading…
Kuha Stables
In the Old Kuha, the life of traditional farm yard can be enjoyed. We offer possibilities to visit and meet our animals in 1900s surroundings. We have horses, sheep and chicken to pet, and you can also ride our horses on field or in the forest year round. We also have barn accommodation. You can ask the current information on horse-back-riding schedules and prices by e-mail:
liisa.kuha@edu.ranua.fi
Tel: +358407420619
Address:
Kuhan talli
Vanha Kuha 1c 97700 RANUA
Ranua Guide
You can experience more with a guide! You can book your guided tours from Ranua Wildlife Park and get to know Ranua village and Ranua Wildlife Park. Nature tours directly from guides.
Tero Kuha tel +358 40 865 2308
Tiina Niemelä tel +358 40 779 0577
Lotta Niemelä tel +358 50 186 9003
Japan House
Japan House offers an authentic link to Japan. Born from the friendship of Ranua and its sister city Iwasakimura, the house is a marvelous example of lively interaction between two cultures. It lies by the beautiful lake Simojärvi in the midst of nature.  You may enjoy the peaceful garden that fits in harmony with the surrounding Finnish forest. Take your moment in quietness, step inside the house, and deepen your knowledge of Japanese Culture.
Various events and exhibitions are held in Japan House. Programs for groups and private visitors, such as workshops of creative writing or origami are available and produced by LappStory.
The house is also ideal for small meetings and festivities. It is also a residence of art, offering opportunities for artists to focus on creative work in peaceful surroundings. Read more at our web-site.
A wide library collection consists of books about Japan in various languages.
Open in August:Tuesday to Sunday 11 a.m. – 4 p.m. or by appointment
Location: Olangontie 20, Simojärvi
+358(0)44-579 0483