Products inspired by nature
Surrounding environment is strongly present in local products of Ranua. The skilled entrepreneurs bring the cleanness of nature for you to experience.
Pikku-Hilla
Pikku-Hilla products are made in Lapland Finland. Fabrics come from responsible producers in EU. Fabrics are made from organic cotton. For the elasticity, there is always a little elastane in the fabric. All the fabrics have either Öko Tex or GOTS –standards. Fabrics are safe to use and they are suitable for children, persons with sensitive skins and atopic persons. The main sewer of Pikku-Hilla has herself atopy and chemical sensitivity, so the textiles go through a careful revision before they are offered to customers. In addition to non-toxicity and skin-friendliness, the fabrics are very durable and washable. In our selection we have prints of our own design.
Ranua-Revontuli (August Berries)
Ranua-Revontuli produces clean delicacies out of Lappish berries. Liquors and wines are among the most popular products. Also, jams and jellies, and non-alcoholic drinks can be found. There are no additional flavours or colours added in the products. Ranua-Revontuli is the northernmost company in Finland to produce drinks and wines out of berries. The shop is in Murr Murr- castle and you can get all the other products from the shop, except liquors, which you can get from Alko.
Hillasauna
Sauna with cloudberry-spa
This renewing and relaxing spa-treatment leads your thoughts away from everyday chores. Let the feeling overwhelm you as warm rocks with cloudberry extracts are pressing gently on your skin. The leaves of cloudberry rejuvenate your facial skin leaving a moisturized and soft feeling. The spa is finalized with a refreshing foot-spa bringing the nature close to you with forestry scents and aromas.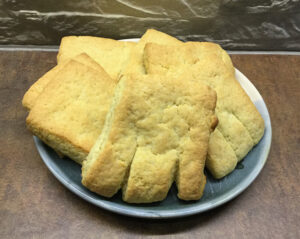 Cloudberry Kampanisu of Kiireen raja (kampanisu ="comb bun")
Traditional pastry of the area is kampanisu. Name comes from the shape of the pastry, as it looks like a comb with multiple studs. You can get the kampanisu sweet and salty, but in Kiireen raja, they are cloudberry-flavoured.
Kunnonmetsästäjä
Ranuan luonnon innoittamana syntyi aito lappilainen luonnonkosmetiikkasarja hoitotuotteineen.  Niiden voima perustuu yöttömän yön vahvistamiin ja voimistamiin luonnon marjoihin ja yrtteihin. Tuotteissa käytetään vain luonnollisia ainesosia ja ne valmistetaan käsityönä Ranualla. Saat ihosi ja hiuksesi voimaan niillä hyvin ilman kemikaaleja, hajusteita, väriaineita tai mikromuoveja.
Genuine Lappish natural cosmetics are inspired by clean nature of Ranua. Berries and herbs growing under the Midnight Sun provide strength and efficiency for Kunnonmetsästäjä products. Kunnonmetsästäjä cosmetics and products are made from original ingredients and they are hand-made in Ranua. You can make your skin and hair glow without chemicals, fragrances, colours or microplastics.