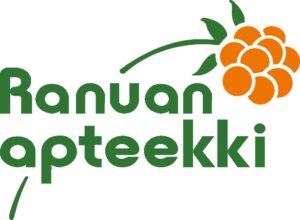 Arla Northern Finland
Shop
Repotie 2, FI-97700 Ranua
Tel. +358 40 722 5569
ArlaPohjoisSuomi
S-market
We offer everything you need on table for every day, as well as, for celebration. We have favourites and interesting releases, wide range of products for special diets, and of course local tastes.
Open Mon – Sat 8 – 21, Sun 10 – 21
Keskustie 1, 97700 Ranua
Tel: 044 788 5644

K-Market Hillamarket
Everything good is near – for every day as well as for celebration. We also have a clothing department.
We are at your service: Mon – Fri 8 – 21, Sat 8 – 21 and Sun 10 – 21
Keskustie 34, 97700 RANUA
Tel: 016 355 1831
Reijo Sääskilahti / Purchase and sale of wild berries
In summer at the Cloudberry market square
Ranuan Hillatori in summer
Visit the Cloudberry Market in Ranua for local culture, unique
handicrafts and delicious souvenirs! Enjoy new cloudberry
products and a cup of coff ee at the market. The busiest market
days are Fridays and Wednesdays.
Ranua central village
Address: Hillapolku 1, 97700 Ranua
FAZER SHOP RANUA
The Sweet Shop open daily
1.9.– 31.5. 10 a.m.– 5 p.m.
1.6.– 31.8. 9 a.m.– 7 p.m.
Murr Murr Castle, Rovaniementie 29, Ranua
Tenavakulma
Tenavakulma is a gift, toy and clothing store in Ranua at Murr Murr –castle. We offer Finnish and natural wear and wash clothes for the friends of colours. Products are made responsibly from toxin-free materials. We also have a wide collection of toys and delightful gifts, as well as, beautiful, Finnish jewellery. Pikku-Hilla is Tenavakulma's own trademark and it has been granted a mark for Finnish quality – a Key Flag.
Open every day!
Rovaniementie 29, 97700 Ranua (Murr Murr Linna)
tenavakulma97700@gmail.com
Shop Online
Pikku-Hilla
Revontuli Ranua (August Berries)
Welcome to the world of tastes and aroma! Ranua Revontuli Ltd. produces clean products out of local, natural berries. Liquors and wines are amongst the most popular products.
Murr Murr Castle, Rovaniementie 29, Ranua
Tel: 016 3552 400, 0400 695 223
Open every day, May-August 10-19, September-April 10-16.
www.ranuarevontuli.fi
Villa Havula – Puutarhurin Maja flower and handcraft boutique
Villa Havula – Puutarhurin Maja flower and handcraft boutique is located close to Hotel Ilveslinna right in the center of Ranua.
In the shop you will find a multiple choice of local handcrafts from felt to macrame and reindeer leather. Also locally produced natural cosmetics, as well as, sweets and spices from local berries and natural resources are sold in the boutique.
As the name, Villa Havula – Puutarhurin Maja (gardener's cabin) implies, you can get also flowers and bouquets from the shop.
Virastotie 8, 97700 Ranua (Bank building)
villa.havula@gmail.com
www.villahavula.fi
Boutique open
Mon 10 a.m – 4 p.m.
Tue- Wed 10 a.m. -1 p.m.,
Thu-Fri 10 a.m.-5 p.m.,
Other opening hours by agreement tel.0400613394