Arctic Guesthouse and Igloos
Arctic Guesthouse and Igloos offers you affordable accommodation, breakfast and activities amidst the pure nature of Ranua in Southern Lapland.
You can follow the day and season changing from the new green trend in nature tourism, mobile AuroraHut igloos. You can also be a part of active nature experience in all seasons.
AuroraHut igloos: 20 beds in 10 igloos
Guesthouse rooms: 51 beds in 18 rooms
Our restaurant and cafeteria are also open every day of the year.
Pappilantie 1 97700, Ranua
Tel.  +358 50 378 7989
https://arcticguesthouseandigloos.com/
[/three-fifths]
[/three-fifths]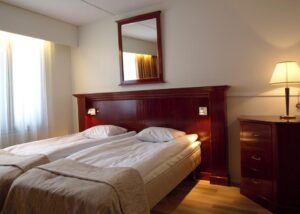 Lapland Northern Lights
Hotel Ilveslinna
Lapland Northern Lights Hotel Ilveslinna is the ideal spot for discovering the Finnish nature, wildlife and the Northern Lights. During the season from October to March we offer our guests Northern Light tours every night. A delicious breakfast buffet and a weekly lunch menu with fresh ingredients make sure you won't get hungry while roaming the frosty forests and riversides of the area. The hotel restaurant also offers an á la carte dinner menu.
Keskustie 10, Ranua
Tel: +358 400 177 130
info@hotelliilveslinna.fi
www.hotelliilveslinna.fi
Hotel Ilveslinna in Booking.com
Lapland Koivusto apartment
Welcome to enjoy your vacation or business trip in a cosy environment in the Ranua village centre close to Lake Ranuanjärvi, in a holiday apartment in a terraced house completed in November 2015. The price includes carport parking with a heating plug. The apartment is well equipped, including bedlinen and towels.
Koivutie 13, Ranua.
Tel: +358 400 391 054
mikko@laprim.fi
Lapland Koivusto Apartment in Booking.com