[two-fifths-first]
[/two-fifths-first]
[three-fifths]
Traditional barn of Kuha Harmony
Traditional barn from early 1800s by the Lake Kuhajärvi has been renovated for accommodation while respecting the history of building. In this two-bed barn, it is possible to enjoy a good nights' sleep without disturbances. Toilet and bathroom are in the main-building 15 meters away from the barn. There is a place for campfire and possibility to fish at Lake Kuhajärvi. Available on Summer season.
Kuha Harmony (Kuha stables)
Vanha Kuha 1 C, 97700 Ranua
tel: +358 40 742 0619
liisa.kuha@edu.ranua.fi
[/three-fifths]
[clearfix]
[two-fifths-first]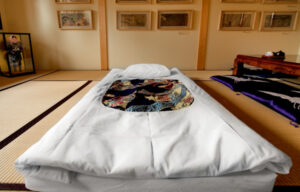 Tatami room
[/two-fifths-first]
[three-fifths]
Japan house
Enjoy peaceful Japanese-style accommodation by the Lake Simojärvi.
Forget everyday chores and experience the whole story. Japanhouse accommodate 2-4 persons by booking in advance.
Bed will be traditional futon on the tatami floor. Price includes yukata -night gown and tea.
Please, note that there will be no elevator in Japanhouse and tatami room is in second floor.
Shower available. No pets.
Inquiries and bookings +358 44 579 0483 or by e-mail japanitalo@lappstory.fi
[/three-fifths]
[clearfix]